Over 100 People Attend Sheffield Climate Emergency Summit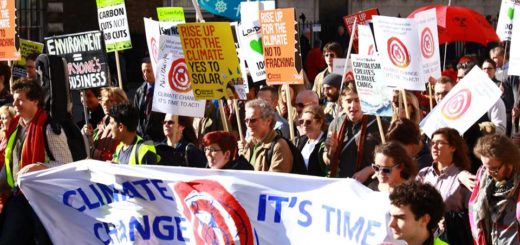 An umbrella group comprising of Sheffield Youth Strike for Climate (YS4C), Sheffield Climate Alliance (SCA), Extinction Rebellion Sheffield (XR Sheffield) and Sheffield Trades Union Council (STUC) came together to organise the event on Saturday 7th March alongside other groups and individuals who attended.
100+ people were in the room for the opening session which was facilitated by Molly, a Sheffield school climate striker. Molly introduced the day and reminded all present that if we don't take action now over climate change than our inaction could ultimately lead to genocide. Molly also pointed out that the inaction of global leaders (e.g. Australian PM Scott Morrison continuing his holiday while the bush fires escalated) shows how little they value human life.
Opening speaker Martin Empson (Campaign Against Climate Change and co-author of System Change, not Climate Change) spoke about the causes and symptoms of climate change, from fossil fuels to fires and floods. Martin reminded everyone that the upcoming COP26 talks in Glasgow are a reference to the previous 25 COP talks that have singularly failed to come up with a global strategy for dealing with climate change. Martin stated that it is not enough to say stop burning fossil fuels, we have to come up with a much wider vision and strategy that includes radical ideas. He gave the example of free public transport in Luxembourg and also how protest stopped the latest Heathrow expansion.
Video link-ups were shown with Emma, an Australian climate activist and member of the Maritime Union of Australia and Brendon Woodhouse, a UK firefighter and member of Seawatch (a search and rescue organisation).
Emma described how the unfolding bush fire crisis was the worst yet in Australia and incomparable to anything that had gone before, but also how environmentalists and activists have been responding.
Brendon spoke incredibly movingly about his work as a member of Seawatch. He said that we are not facing a refugee crisis but a crisis of humanity. Brendon pointed out that 80% of displaced people live in the global south and that the crisis will only get worse as climate change escalated.
The summit then broke down into 3 separate workshops to take the discussions/topics from the opening session forward. For most people the biggest dilemma was which workshop to attend as all were so relevant!
Workshop 1: The global south, climate refugees and population
The workshop was facilitated by Fran from Sheffield Stand up to Racism (SUTR). There was a powerful group exercise about what you would do if you were given moments notice that you had to leave your home and were made a refugee. Speakers included Ebru from SUTR on population displacement and the global south, and Pedro from the Chile Solidarity Campaign on Chile and the experience of being made a refugee.
Action points from the workshop were:
Building and mobilising for a climate refugee bloc on the Stand Up To Racism demonstration for UN Anti-Racism day on 21 March 2020
Creating a definition of a climate refugee and lobbying the a home Office to accept this.
Workshop 2: Fighting the climate emergency- building the climate strike movement
Approximately 30 people attended the workshop. Youth climate strikers facilitated the workshop which parents, teachers and trade unionists who support the strikes also participated in.
A key focus was on building and diversifying the strikes. Upcoming strikes are 13 March 2020 and 03 April 2020 which has been declared another global climate strike day. In Sheffield youth strikers meet at 11:00 at Devonshire Green on strike days for a rally and march and all are welcome to join.
Workshop 3: Where now for the Green New Deal and the climate jobs campaign?
40 people crammed into the workshop facilitated by Lauren Jones from Sheffield Climate Alliance (SCA) to hear speakers Joan Miller (Sheffield Climate Alliance) on the Green New Deal, Will from Extinction Rebellion (XR) Sheffield, Lee Ward speaking on behalf of Sheffield taxi drivers, Martin Mayer from Sheffield TUC and Minesh Patel from ACORN.
A quote was also read from David Burley (anti-fracking campaigner) about the proposed closure of Dinnington College which provides vital horticultural and environmental courses.
Fran Postlethwaite from Yorkshire and Humber Pensioners Convention highlighted their manifesto "Better bus services: good for people, good for the planet" and the associated regional conference on Saturday 25 April 2020 11am-3pm at Central Methodist Church in York.
Joan Miller spoke about the importance of finding and acting on your passion regarding climate and reaching out to others to find theirs.
Leroy, an unemployed worker, raised the question of how we tap into the mine of unused skills held by those who are long-term unemployed and asked how this could fit into the campaign for climate jobs.
Nasser, a GMB representative for taxi drivers raised similar questions about how we bring ordinary workers onboard.
Action points from the workshop:
working towards solutions for just transition: better conditions for workers, jobs and pay.
Pressuring local councils and the regional mayor
Reaching out to the wider multi-faith community and people with different values and opinions.
After a short lunch break everyone reassembled for a closing session facilitated by Lucinda Wakefield representing the umbrella group responsible for organising the summit.
Representatives from the 3 workshops fed back their action points after which Patrick (Youth Strike For Climate), Martin Mayer (Sheffield TUC), and Martin Empson (Campaign Against Climate Change) provided the closing speeches.
Patrick (YS4C) said that whilst the crisis is deepening and the future looks bleak, that doesn't mean there is no hope. He highlighted the power of collective action demonstrated by the global climate strikes and the mass movement of 1,000's of school students in Sheffield. Patrick said he was proud to work alongside workers and trade unionists and thanked them for their donations and support.
Martin Mayer reminded the summit that whilst Greta Thunberg is a global climate star, we have scores of our own local stars. Martin also felt that the alliance between school students, trade unionists and climate activists was crucial and needed to continue to grow and mobilise. He reported that Sheffield TUC have sent a motion to the Yorkshire and Humberside TUC calling on them to mobilise for the COP26 talks in Glasgow and to organise a train if possible. Martin finished by stating we need to find ways to talk to ordinary people about the bright future that is possible if we give people power over their lives and environment, which he felt goes hand in hand with a fairer society.
Martin Empson summed up by returning to the bigger picture of fires and floods globally, what the vision of a Green New Deal could look like locally and nationally, and the need for continuing unity and solidarity with the school strikes in the run up to the COP26 talks. Martin raised the question of how we shape the climate umbrella group in Sheffield to rise to the massive challenge.
Lucinda closed the summit by announcing plans to formalise the umbrella group that organised today's summit, to build for a mass mobilisation to the COP26 talks in Glasgow in November and finished with a quote from Naomi Klein's book On Fire that ends:
"There is a different quality to that urgency now because it just so happens that we are all alive at the last possible moment when changing course can mean saving lives on a truly unimaginable scale".
Quotes from summit participants:
Patrick (youth striker):
"The Sheffield climate Emergency summit was a decisive day for the future of the climate movement in Sheffield. It brought campaigners and activists from a multitude of groups together, strengthening us for the future.
Overall the day was a really positive experience with loads of great debate and ideas. I know that everyone from youth strike for climate there is feeling alot more confident in continuing our action against the climate crisis."
Lisa (teacher):
"The important thing that kept coming up in discussions was the need for educators and students to work together building the strikes and making climate change a priority in education. We need to argue for climate change to be taught much more on the curriculum – students have a right to learn the truth about the climate emergency and they need to be empowered to fight for solutions. Educators can also support students by arguing for authorised absences and against any punishment for those striking."
Ebru (Sheffield Stand Up To Racism):
"something that struck me was that people are making connections between the climate crisis and neo-liberal capitalism and everyone agreed that those things needed to be fought alongside institutional racism. It felt like people were joining the dots and were up for a fight."
Lucinda (union delegate to Sheffield Trade Union Council and XR climate activist)
'We are now facing a climate crisis, of which the consequences of inaction by Governments is totally unacceptable and far-reaching. The striking school students and actions of groups like XR in the last year have been inspiring. Political compromise and niceties cannot come close to the level of change required to mitigate this crisis. The summit today has brought together climate activists, campaign groups and trade unionists to join together to exert our power in forcing the hand of major powers – demanding climate justice that is inherently related to social justice in order to avert the next global mass extinction".