Common Hope Common Ground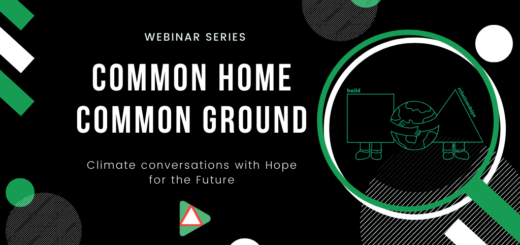 Hope for the Future have announced their brand new webinar series: Common Home, Common Ground.
The series aims to provide a space to begin a discussion about how we can continue to take action on climate change during this period of global uncertainty. Hope for the Future have brought together expertise from across all their areas of public engagement to bring you an exciting series of interactive and free to access webinars, running as five mini-series from May to July 2020.
Details on how to register, as well as exciting speaker announcements will be coming soon. In the meantime, if you would like to be kept up to date with new details about the webinars, please register your interest at this link
We hope you will join these vital conversations, where there will be discussion of all things climate and reflection on how we can ensure our future is built on a foundation of green principles. Find details about each of the mini-series below!
18th – 21st May: Is the media failing us on climate change?
The media is a powerful way that politicians communicate with the public, yet over recent decades many argue that reporting on the climate crisis is falling short. This webinar series will look at how we can better connect decision-makers and media to tackle climate change
1st – 4th June: A Climate of Crisis: COVID, COP26 and Political Leadership on the Road to Recovery
This webinar series will focus on the national and international climate conversations we need to be having in response to COVID-19, and how we can have those conversations effectively.
15th – 18th June: Families for the Future
"Children are the Future" but how do we support them in shaping that future? What is our role as parents who care about climate change? This series of videos and discussions for sharing experiences and emotions towards parenting during the climate emergency and give you practical advice on how you can take action.
29th June – 1st July: Seen, but still not heard? Voices from the Youth Climate Movement
With young people often at the forefront of global climate activism this webinar series will investigate the power of youth in creating change, the effects of this on their mental health, the problem of diversity in the climate movement and look at how best to facilitate the engagement of all young people in the climate movement.
13th – 17th July: Keeping Faith in the Climate
Climate change raises important moral questions about who we are in relation to the earth and in relation to others. Faith is a crucial lens through which many people seek to answer these questions. This webinar will look at what can be learned from different faith traditions in how we approach the problem of climate change.