Help kick fossil fuels out of South Yorkshire's local government pension scheme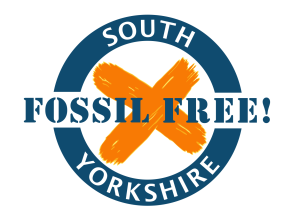 This is a call-out to any South Yorkshire residents who would like to take part in a quick email action – and can do it before June 11th. It's particularly good if you are a South Yorkshire Pension Fund member (for example, if you work for any of Sheffield, Doncaster, Barnsley or Rotherham councils or are employed by a school but not as a teacher).
At the next meeting of the Pension Authority, on June 11, the Board will be asked to review and approve the Climate Change Policy. Although the revised policy talks about 'tilting in favour of low-carbon assets', it still has no targets or timeframe for decarbonizing the pension fund. Without these, we think, the policy is ineffective and lacks accountability. 
If you have a bit of spare time, writing to a member of the SYPA's Board could tip the balance and ensure that SYPA and its investment decisions became part of the solution rather than remaining part of the problem.
We've put together a brief email that you are welcome to use as a template (see below). Of course, it would be great if you felt you wanted to use your own words. And right at the bottom there is a list of SYPA Board members and their email addresses. They are all local authority councillors and sit on the Board as representatives of the local authority not their ward.
Finally, if you do send an email could you let us know, by emailing gofossilfree AT sheffieldclimatealliance.net. And the same if you get a reply.
With love and hope – and many thanks for any help!
Template email
Dear Councillor xxxx
I am contacting you regarding your role on the South Yorkshire Pension Authority (SYPA). I am a resident of Barnsley/Doncaster/Rotherham/ Sheffield and a member of the Pension Fund.
Given the upcoming SYPA board meeting I would urge you to withhold your approval of the revised Climate Change Policy without the inclusion of meaningful and challenging targets and a timeframe to decarbonise the fund.
All four of the South Yorkshire local authorities have declared a climate emergency, with the aim of being carbon zero between 2030 and 2040. By continuing to invest in fossil fuels, SYPA is perpetuating the present unsustainable system but by pressing for targets you could be a part of building a better future.
Best wishes
…