Tackling the climate emergency in Penistone and Stocksbridge
Reporting back on the event
Nearly 40 people attended the first of a series of Zoom events, 'Tackling the Climate Emergency in Penistone and Stocksbridge' last Saturday, supported by Penistone and Stocksbridge Constituency Labour Party, Green New Deal, Build Back Better, ACORN Sheffield, Upper Don Renewable Energy Ltd, Bullhouse Mill, Barnsley TUC, Don Valley Railway, Nurses United, Better Buses Campaign and Youth Climate Strikers.
There was a brief talk by Danielle Paffard from the national Green New Deal (GND) followed by four speakers from local community and interest groups. Danielle said that GND campaigned to persuade the government to decarbonise the economy, create secure green jobs and help in the transition of workers to those green jobs, support local communities, restore and protect wild spaces and the natural world.
Carbon negative buildings
Charles Booth explained how Bullhouse Mill became the first privately owned carbon negative building in the UK. He developed the site around Passivhaus standards with high tech insulation, intelligent lighting, separating hot and cold areas, using less water, recycling to avoid landfill, installing a huge array of solar electric panels, harnessing energy from the River Don and wind turbines. Heating is by ground based heat pumps and they additionally use biomass. The National Grid caps input so they can't input any more electricity. They plan on having free Electric Vehicle charging for tenants.
The role of nurses and the NHS in the Green New Deal
Holly Johnston spoke about her work as Lead Organiser for Nurses United and as an Oncology Nursing Sister in Sheffield. She said Nurses United support the GND as it will Build Back Better where we should have a right to say what happens to our services. Free health care is a right and we need to protect the NHS from being sold off. Their work with communities to reduce emissions will also reduce Asthma, lung diseases and improve mental health by protecting green spaces. Electric car use and car sharing with bike use schemes have proved very popular. Pushing for better organisational practice with input from staff, better pay and union membership will all help to recruit and retain these critical NHS staff.
Better public transport in South Yorkshire?
Fran Postlethwaite told us about the Better Buses campaign; the need for a radical change to the existing bus system. Car use in South Yorkshire contributes far more CO2 than the national average with air pollution causing so many deaths. We need 'green' buses with zero carbon emissions. Yorkshire has three manufacturers of these buses but Covid meant orders were cancelled and one company's output goes for export. We needed to expand the fleet of electric buses and where they go; improve access and take up for existing car users. She gave the example of the three hours it currently takes to go by bus from Penistone to Stocksbridge; a ten minute journey by car. This needs a radical change to how bus travel is funded and operated.
A voice from the Youth Climate Strikers
Patrick Wakefield from Youth Climate Strikers explained what was happening to the planet through air pollution, extreme weather events, including the related fires in the Peak district. He said we needed to change the way the economy worked as well as addressing all the climate and environmental needs such as the rise in sea level will force millions away from coastal areas around the world in 50 years or less. He highlighted how we needed to act now to meet the challenges of the climate emergency and the role of youth in pushing this on the political agenda because no political party currently wants to do the radical changes needed. He pointed out the daily production of 90 million gallons of oil just kept going with no sign of us reducing use of fossil fuels. Similarly how the current system has produced 56 people, mostly white men, who own more than half of the world's population. That was the macro side and on the micro side how the Rolls Royce Barnoldswick site workers had pressed to change from making car engines to making green technology. Other examples he gave were from Spain, agriculture and moving away from a profit motive. Well done Patrick!
How to get involved in the next Green New Deal event
Four breakout groups discussed topics raised by the speakers before we summarised and thanked the speakers.
The next event is provisionally planned for 28th March.  If you have any topics or speakers you would like to suggest or if you would like to help out, please contact nic@axelafa.com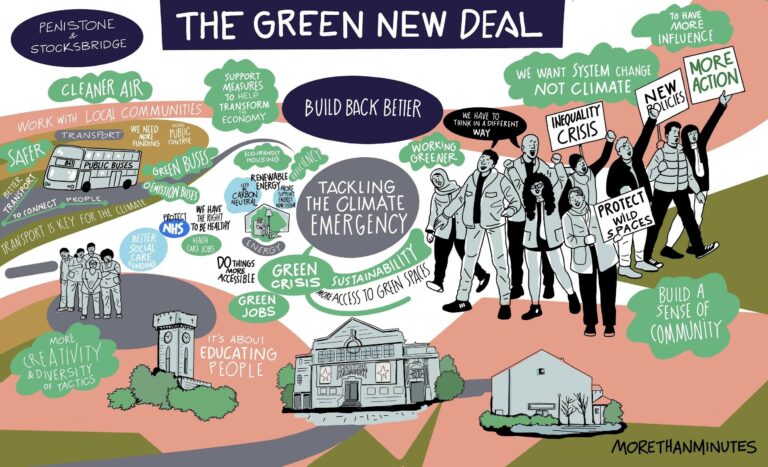 *This event is external to Sheffield Climate Alliance. We promote the work of organisations that share our principles of working towards a safe climate for all.