Better Buses - Open Letter to Dan Jarvis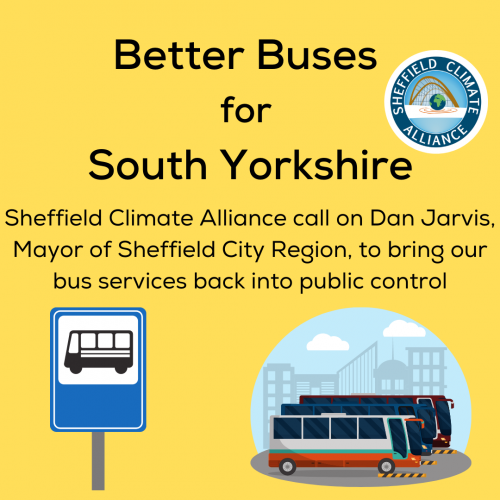 Dear Dan Jarvis,
We are writing to request that SCR implements the recommendations of the Clive Betts Bus review, especially:
"We recommend that legal and financial investigation of franchising in South Yorkshire begin immediately."
Some of our members have been involved with the Better Buses for South Yorkshire campaign [Facebook page @betterbusessy]. We support the aims of the group because the  changes it advocates are essential to help bring about the modal shift away from private car use and into public transport which is needed to challenge the climate emergency and to reduce the often illegal levels of toxic air pollution. The content of the notes below is identical to that of the campaign.
Buses are hugely important for getting to work, linking our communities, accessing the services we need and for delivering a sustainable and environmentally healthy region. Moreover, they are used by the most vulnerable in communities – they are a vital public service, not an optional extra.
Since the start of the Coronavirus outbreak, bus use has been decimated. Only public funding has kept bus services running. Less profitable routes will be under serious threat when current government subsidies to the private bus operators come to an end.
We welcome the publication of the South Yorkshire Bus Review in June 2020 which concluded that fundamental changes are necessary to ensure we have a bus service in the future.  As you said on receiving the review "we have a golden opportunity to build back better".
We note:
–          Bus deregulation happened in most places in the UK in the 1980s – but notably, not in London where services were franchised. Deregulation means that profit-making companies now run our buses on whatever routes they like, when they like and charging what they like. There is usually no ability to share tickets between different operators or to integrate transport services to make life easy for passengers.
–          Since deregulation bus journeys have fallen in South Yorkshire from 347 million in 1982/3 to 89.5 million in 2018/19. In contrast, in London bus use doubled during the same period. In Jersey, who recently reintroduced regulation of its buses, ridership has gone up by 32% in the last five years alone.
–          As a devolved region South Yorkshire now has the power to introduce public control through franchising of the bus service.
–          A return to public control means decisions on routes and timetables can be made by the transport authority.  Profits can be used to subsidise socially necessary services. It also allows a simple smart ticket system, with an automatic daily cap of spend, like the Oyster card in London with passengers able to use one simple area-wide zonal ticket for all journeys.
–          Bus drivers are highly unionised, but terms and conditions have been undercut by years of privatisation.  Many jobs are under threat if funding is cut.
–          Tackling the climate emergency necessitates reducing the number of cars on the roads. Investing in a 21st century public transport system is the best way to achieve this. This demands more buses, greener buses, better buses and more frequent and reliable bus services.
–          Expanding our bus network and bringing it back under public control will help us achieve a higher quality public service, offer more climate-friendly jobs in bus services, and allow us to support local manufacturers in commissioning greener vehicles, thus supporting and creating more green jobs in the Yorkshire region.
We request you embark on the process of bringing buses back under public control with resolve and urgency.
Yours faithfully,
Craig Gamble Pugh (Co-Chair)
On behalf of Sheffield Climate Alliance