Women and Climate Justice - how can we rebuild our economy with gender equality and the climate at the forefront?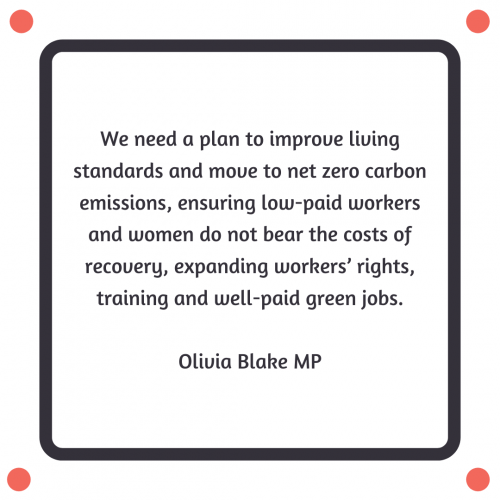 On Saturday 6th March, Sheffield Hallam Labour Party CLP hosted an event to celebrate International Women's Day, and to raise awareness on the topic of Women and Climate Justice. 
What is climate justice?
There are many definitions of and aspects to climate justice, but it can be broadly defined as a framework for addressing the climate emergency that encompasses social, ethical and political issues. Often, those who contribute least to climate change feel its effects most strongly. Women, indigenous communities, people of colour and working class communities are particularly vulnerable to the effects of the climate crisis, such as poor air quality or natural disasters. Climate justice seeks to tackle these issues in tandem with environmental issues, ensuring that no one is excluded and that responsibility is fairly distributed.
Why women?
Research shows that women and girls are disproportionately impacted by climate change. Figures from the UN show that 70% of the 1.3 billion people living in poverty are women and that 80% of people displaced by climate change are women.
The event
The event was held online via Zoom. 
First to speak was Olivia Blake, MP for Sheffield Hallam. She spoke about the ways that austerity makes it more difficult to deal with the global pandemic and climate emergency. The covid-19 pandemic has impacted negatively on 26% of men and 30% of women.
Olivia spoke on the fact that job losses have been concentrated in a handful of industries, with three industries accounting for 70% of job losses: 297,000 in accommodation and food, 160,000 in wholesale and retail and 115,000 in manufacturing. These are all industries heavily populated by women and BME people. Jobs have been particularly hit in sectors without trade union representation.
Not only this, but the government has ended statutory reporting of the gender pay gap. There is very little on the Green New Deal in Rishi Sunak's recently announced budget. We need a plan to improve living standards and move to net zero carbon emissions, ensuring low-paid workers and women do not bear the costs of recovery, expanding workers' rights, training and well-paid green jobs. Olivia has run a series of events to build a Sheffield Climate Change Manifesto, prior to COP 26. 
Following Olivia, Marianne Quick, UCU Official, spoke about how UCU helped found the Greener Jobs Alliance and the Trade Union Clear Air Network, which opposes fracking and airport extensions and has called for a Climate Justice Fund to be established by wealthier nations. Climate change is a social justice issue – the poorest suffer most. 
Marianne spoke about how some unions represent male-dominated carbon-heavy industries and therefore concentrate on saving men's jobs. The focus on a just transition should not mean workers and disadvantaged communities suffer from policies to end climate change; needs to include equality considerations regarding gender and race. New jobs need a more diverse workforce. It is also important to note that education, health and social care are all green jobs, but not always recognised as such.
Marianne also spoke about how the education sector plays a pivotal role in implementing the Green New Deal. For example, teachers need new skills in educating young people on climate issues, and young climate activists must be included in union structures. There should also be a move towards 'greening the curriculum'.
Serena Corr, Professor in Chemical and Biological Engineering at the University of Sheffield and joint Climate Co-ordinator for the CLP, researches sustainable technologies, particularly batteries and energy storage devices. Serena emphasised that equality, diversity and inclusion must underpin plans for a Green New Deal, especially as gender equity is one of UN sustainability objectives. 
Serena spoke about how lockdown has increased risk of violence against women and girls, and how women have shouldered additional household burdens. Workload and work/life balance are gender equality issues; women drop out of academia faster than men. At the current rate of change, it will take 70 years to achieve gender equality.
There were four workshops on the themes of: The developing world post-COVID, Jobs, Housing, and Transport. Some of the key points that arose were: 
Link/target aid to equal representation and female inclusion

Call out the rhetoric of hate towards migrants.

Importance of girls' education 
Bring social care back into the public sector.

Better pay and training for care workers. 

Recognise some voluntary work could develop into paid work.

Create more jobs in protecting and greening national parks and in horticulture.

Empower women in the design and planning process.

Address housing issues which have become evident in the pandemic.

Work on transport needs of vulnerable groups, elderly and shift workers.

Encourage locally accessible services to avoid extra travel.

Bring buses back into local authority control and ownership. (SCA has recently called on Dan Jarvis, Mayor of the Sheffield City Region, to do this. Read the open letter

here

.)
The event was a success: the speakers raised some great discussion points for the attendees, and the four workshops produced some excellent points too. Although International Women's Day is held on 8th March, we need to speak up about women, climate justice and the environment all year round.