'It is down to each one of us to join together to tackle the climate emergency and make the difference for generations to come': We speak to Siobhan Laird, SCA Board Member and Yorkshire and Humber Climate Commissioner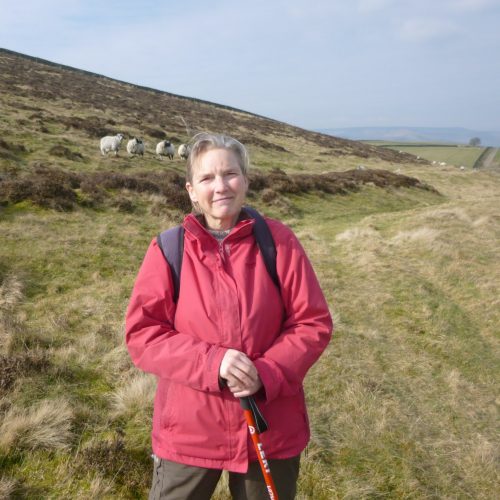 We chatted with Dr. Siobhan Laird, a newly elected SCA Board Member and a recently appointed Commissioner for the Yorkshire and Humber Climate Commission, about how she got into climate action, her advice for people wanting to get involved, and what she is hopeful for in the future.
Emily: Hi Siobhan! Tell us a bit about yourself, your background and your work/career. 
Siobhan: I started out as a property surveyor in London and, to be honest, I really enjoyed getting to see round other people's homes. It didn't take long to figure out that it was the people I liked being with much more than the buildings. So, I switched career into social care and worked with families in difficulties. It was just amazing to spend time with so many people from all walks of life and hear their stories. These days I train social workers. That has felt important given the enormous pressures social workers and care workers are under due to the pandemic.
E: How did you come to be involved in climate action/campaigning? 
S: I guess, like a lot of people, I'd just been getting on with life and kind of ignoring the climate crisis, hoping someone else would sort it. Then I went to live in West Africa for four years to train social workers there. That's when I saw the huge impacts of climate change with prolonged droughts and heatwaves hitting 45 degrees Celsius.When I came back to live in Sheffield, I found that climate change is all around us – the massive year-on-year floods we've experienced in Sheffield and right across South Yorkshire, and the fires raging on our beautiful peatlands. I remember a few years ago being out on a walk feeling shocked looking across to Saddleworth Moor and seeing pyres of smoke. It was one of the largest and longest wildfires in British history. That got me thinking about how this is happening to us all right now and actually how our government is doing little to protect us from it, apart from a lot of talking.
E: What made you want to be involved in SCA as a Board member?
S: Over the years I've volunteered with a number of organisations, some campaigning to reduce greenhouse gas emissions or protect nature and others working for equality and fairness in a new green economy. While all of us in the climate action movement are concerned about the same thing – preventing catastrophic global warming – sometimes our efforts can be quite fragmented.
SCA is pretty unique because it's an alliance of organisations passionate about creating more sustainable ways of living, and working together on broad shared agendas to bring that about. I became a director at SCA to help pioneer this joint approach, which I think
can make our collective climate actions much more powerful. 
E: What advice would you give someone who wanted to be involved in climate action, but might not know where to start? 
S: Start anywhere, just get started. There are some absolutely great climate action organisations in Sheffield and South Yorkshire doing fantastic work. What is your interest? – promoting green jobs, protecting wildlife, improving local air quality, expanding renewable energy, conserving woodland, better public transport, producing affordable local food, reducing waste, getting children to connect with nature, communicating about the climate emergency, creating green cycle lanes and walkways, preventing pollution or creating eye-catching art to help people recognise our dependence on a healthy sustainable environment? It's all happening out there.
You just need to join in and bring your energy, enthusiasm and a bit of time. SCA has a dedicated webpage describing all these organisations and what they do, along with contact details to introduce yourself and be made feel welcome. In the climate action community we know it can be a bit daunting to get in contact for the first time, when you are not quite sure what to expect.
E: What is the best thing about living in South Yorkshire?
S: The Peak District has to be at the top of the list. I love its heather moorlands, birdsong woods and welcoming village pubs at the end of a day in the Peaks. Up there too has got to be the precious sense of community in Sheffield, my great city. A lot of us who've come to settle here from elsewhere, really prize that. It's an easy place to feel welcome and make friends.
When I first moved to Sheffield to take up a new job, a workmate told me 'you might leave the job, but you'll never leave the city'. Well, I did jack in that job, but I never moved away.
E: What are you hopeful for in the future?
S: I am hopeful that more people will have enough courage and concern to get involved in climate action to create a green economy instead of a gig economy in Yorkshire. I'd like this to be a region where renewable energy replaces fossil fuels, while investment in public transport drastically cuts road congestion and air pollution. A place where decent satisfying jobs are created to insulate homes, construct low energy buildings, restore natural environments and generate the technologies we need to live without coal, oil and gas. None of this is going to happen on its own. Far reaching positive changes in our society, like the creation of the National Health Service, have only ever come about because of the determination of large numbers of ordinary people. It is down to each one of us to join together to tackle the climate emergency and make the difference for generations to come.
E: Thank you for sharing your story and words of wisdom, Siobhan.
What is the Yorkshire and Humber Climate Commission?
We mentioned earlier that Siobhan has been appointed as one of the Commissioners on the new Yorkshire and Humber Climate Commission (Y&HCC). But, what is the Commission, and why is it important? 
Climate Commissions are city- or area-wide partnerships bringing together people and organisations from the public, private and civic sectors who work collaboratively to help drive, guide, support and track climate action. Commissions are independent bodies that complement the activities of local government, combined authorities and local enterprise partnerships and that extend their reach and build an area's capacities to deliver climate resilience and low carbon transitions.
At their heart, Climate Commissions are independent bodies that bring together the key actors from across an area to drive, guide, support and track local climate action.
It is exciting that there is now a Climate Commission to represent the Yorkshire and Humber region!