''One individual's action may not make a big difference, but by adding them all together, there will be a massive saving in the collection carbon footprint'': Friends of the Earth and Rotherham Climate Action event review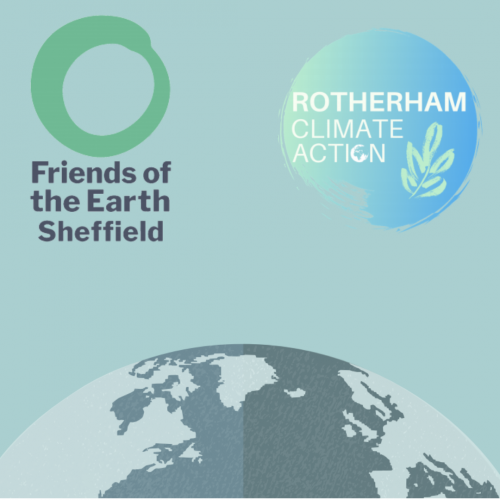 Rotherham Climate Action and Sheffield Friends of the Earth joined forces to organise an online event specifically aimed not at climate activists, but at people who wanted to take their first steps or possibly next steps in their own journey to play a part in combatting the emergencies facing us. 
We decided to have three areas for presentations; what you can do at home, in the community and in the workplace. Taking political action was not ignored, nor was the fact that systemic changes are needed, but the key message was start small and work outwards. The event was promoted through our regular mailing and social media channels but we also reached out to people through community magazines, community Facebook groups, councillors, church communities and parks groups.
Nearly 90 people attended the session, which was really pleasing (and way more than we had anticipated when we planned it!). The fact that it was a beautiful Saturday morning perhaps played a part in not all who signed up actually attending – and we didn't blame them for that. At the end of this article, you can download the summaries of the Q&As and the tips.
Helen Francis, coordinator of Rotherham Climate Action, started off the event by presenting '15 tips in 15 minutes' with reference to local businesses who had reached out to us. For instance: The Bare Alternative in Sheffield had highlighted the possibility of re-filling. Vegan Shiz, a vegan bakery in Rotherham, suggested ways you can use products you already have at home for environmentally friendly cleaning products. Sheffield Green Parents reminded us that it's much better to share, swap and re-use all the toys, clothes and equipment that babies and young children get through so quickly.
Our second speaker, Kendra Ullyart, was from Darlington Friends of the Earth. They have done a lot of community projects including developing a 'food growing' community, which started with growing in builders' bags and plant pots, and developed into greater availability of allotments and a community orchard. On the way there was plenty of campaigning and influencing as events spread the message about the importance of addressing climate change.
Finally, we heard from Andy Cameron, founder and CEO of Intelligent Facility Solutions in Sheffield. He described his company's journey from a business supplying more environmentally friendly products to companies and organisations, to one that decided to also address their own organisational structures so that they 'walked the walk'. The changes they have introduced range from the quick and immediate banning of single-use plastic on the premises, to the much harder measurement their carbon footprint and adopting ways to reduce it. Some of the other issues being addressed are  commuting to work, pensions divested from fossil fuels and sustainability teams in the company. Andy also made the very important point that customers are increasingly looking at the 'green credentials' of the businesses they use so improving practice is not only morally right but also increasingly advantageous for businesses. Andy is also a committee member of the Sheffield Sustainability Network, an organisation which exists for the sharing and promotion of good practice.
Throughout the session there was lively and helpful online chat with participants sharing questions and answers. Breakout sessions concluded the event with more sharing of ideas and feedback for the event was overwhelmingly positive. It is likely that we will run the event again next year and have already been asked to run a smaller session for a community group.
You can read a summary of the tips here. 
You can read the questions and answers summary here.
(This event was run by Rotherham Climate Action and Sheffield Friends of the Earth. This summary was written by them.)