The Climate and Ecology Emergency needs decisive political action. Read more about the #CEEbill and how to get involved!
This is a guest blog, written by Sheffield Greenpeace.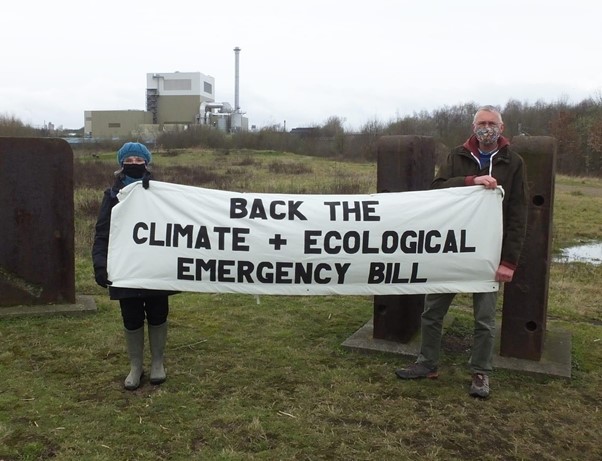 2020 was not only the hottest year, but also the end to the hottest decade on record. Massive wildfires scorched Australia, Siberia, and California, and the ice cover continues to shrink as melting seasons are getting longer. In South Yorkshire, in the last couple of years, we have experienced record breaking hot summers and intensive rainfall and flooding.
Climate change is no longer a prediction, it is a reality. We are in a climate and ecological (or nature) emergency. The sixth mass extinction is happening today. Never in our history has there been a more pressing need for radical new legislation. We can use the levers of power that already exist to protect the future of life on earth.
That is exactly what we have in mind with the CEE Bill. Caroline Lucas MP presented it to Parliament back in September 2020 as a Private Member's Bill, ie. a law proposed by MPs rather than by the Government. This Private Members' Bill is written by scientists, lawyers and activists, and is gathering the support of MPs, campaign groups, businesses, charities, and individuals.
The CEE bill has the potential to become the most significant move forward since the Climate Change Act 2008. The purpose of this national action is to elevate the CEE Bill to the top of MPs' agenda. So far, locally, only Clive Betts (SE Sheffield) and Olivia Blake (Hallam) have declared their support for the Bill. We need more of our local MPs to support this Bill and to do what they can to get it debated in Parliament. A sudden increase of posts on Twitter about the Bill on Friday March 26th , will create a 'Twitter Storm' and momentum to persuade MPs to back the Bill.
A number of local environmental groups including Sheffield Greenpeace, Extinction Rebellion Sheffield, Sheffield Friends of the Earth are supporting and promoting this action. We'd like people to record a short video message and tweet it to their MP asking them to 'back the CEE Bill' or thank them for backing the Bill. You can record your video in front of the banner (see below), in your home, in your garden or in front of your MP's Office.
Everything you need to know about the Sheffield Twitter Storm, including how to make a video, MPs twitter handles and hashtags, and suggested tweets, can be found here. You can share information about the Bill and this Action on all your Social Media, and with friends and relatives.
If you are not on or into Social Media you can send a picture of yourself supporting the Bill to campaign@ceebill.uk or a video to xrsheffieldpress@gmail.com. Alternatively, you can write to your MP about the Bill. You can find loads of help here.
Richard and Anne from Rotherham have created the fantastic banner above. You can video/photo yourself in front of it at Sheffield Town Hall between 11am and 2pm on Friday 26th March.