Protect our oceans, stop deep sea mining: a guest blog post from Sheffield Greenpeace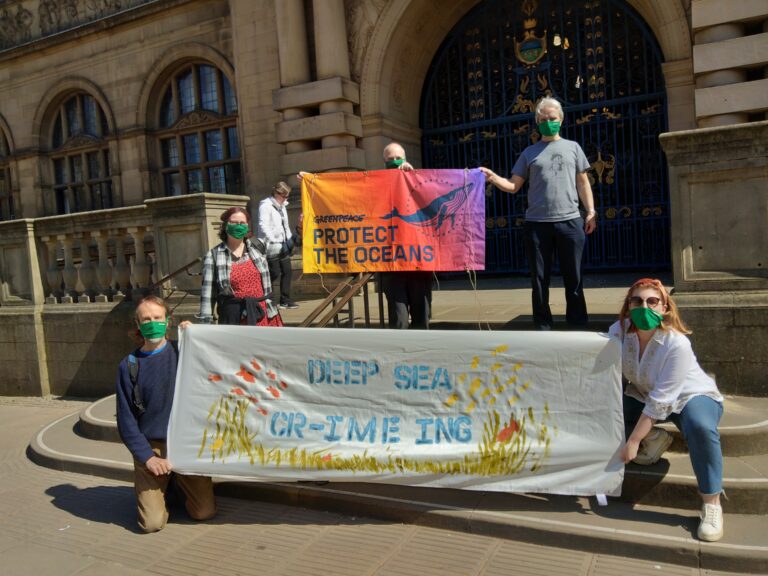 Oceans are vital in our fight against climate change as well as being a rich and varied source of incredible, beautiful life. Healthy oceans play a vital role in sustaining life on our planet, by providing a source of food for billions of people, and helping to regulate the climate.
Greenpeace have been campaigning for a number of years for a strong Global Ocean Treaty – a Treaty that would allow 30% of the World's Oceans to be protected by 2030. They would be protected from mining and fishing by the creation of Ocean Sanctuaries. The culmination of this campaign is a series of negotiations at the United Nations in August 2021. Greenpeace recognises the vital importance of public communications about the wonders and threats facing the high seas.
One of the threats Greenpeace wants to highlight is the emerging threat of deep sea mining (DSM). Deep sea mining would involve sending huge industrial machinery to the fragile ecosystems that live in the depths of the oceans, many of which are less well understood than the surface of Mars. DSM is not a well-known issue, and the UK is a major player in this area.
There is growing interest from governments and industry in DSM for minerals and metals such as copper, cobalt, nickel and manganese; but it is not happening anywhere in international waters – yet. One of the three largest corporations who work on deep sea mining is from the UK.
The UK Government is currently reviewing its position on DSM in response to an increase in media, NGO and parliamentary scrutiny, including looking at the risks of environmental harm. The review will conclude in July – ahead of that deadline, Greenpeace will be taking a series of actions around DSM, which has already begun in the Pacific Ocean. 
Over a weekend of action on 24th and 25th April, dozens of local Greenpeace groups and supporters throughout the UK took to the streets (and the seas!) to help raise awareness about DSM and demonstrate that there is widespread opposition to this nascent destructive industry.
Volunteers from Sheffield Greenpeace gathered in Sheffield town centre on Saturday 24th April to highlight the issue and their opposition to Deep Sea Mining. They were photographed in iconic locations including the Peace Gardens, Crucible Theatre and Town Hall. 
This action was followed by a successful social media campaign on Facebook, Twitter and Instagram and excellent coverage in the Sheffield Star. 
To get involved with Sheffield Greenpeace, visit their website here.