Open Letter to Boris Johnson from The Climate Coalition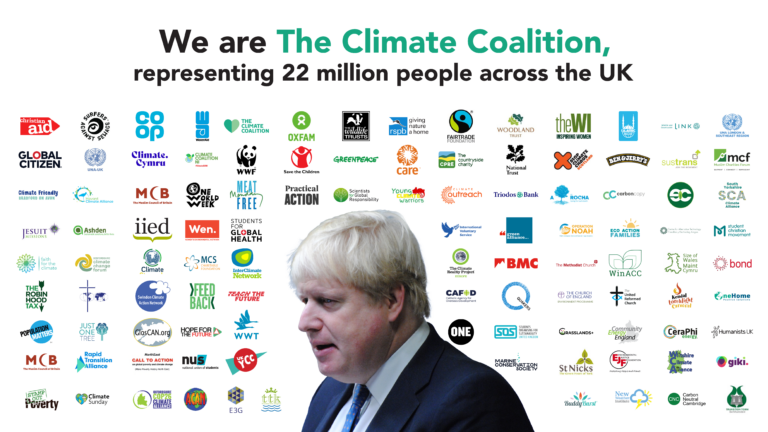 We are proud to be members of The Climate Coalition, which brings together 100s of organisations, representing millions of people in the UK, campaigning for climate and social justice. We have written to the Prime Minister, calling on him to take more urgent and radical action ahead of COP26.  Read the full letter here: 
Prime Minister Boris Johnson,
This is your chance to leave an historic legacy.
Wild weather, raging fires, deadly floods and rising seas are sweeping the globe. They're caused by human-made emissions and the destruction of nature, and they're devastating lives here and across the world.
The damage we're doing to rainforests, oceans and our own countryside means there are some sights our grandchildren will never see and some cultures that will be lost forever.
Lives and livelihoods are already being torn apart in communities on the frontlines of the crisis.
The public's concern about climate change has reached an all-time high [1]. We expect you to protect our future. Your success or failure will be written about in the history books. 
You could be remembered for agreeing a global plan to cut emissions to stop the world heating by more than 1.5℃, and leading by example in the UK by drawing the fossil fuel era to a close.
You could be remembered for leading global commitments to restore and protect nature in the next decade, and leading by example in the UK by building back our woodland and peatlands that capture carbon and slow down climate change.
You could be remembered for ensuring there is financial support to meet the scale of the impacts faced by the people and communities most affected by climate change globally, and leading by example in the UK by investing to create new green jobs. 
Failing to face the biggest existential threat since World War II will be no legacy at all. Will you deliver an historic climate deal that respects the contract between this generation and the next? 
Yours sincerely,
The Climate Coalition, representing 22 million people across the UK.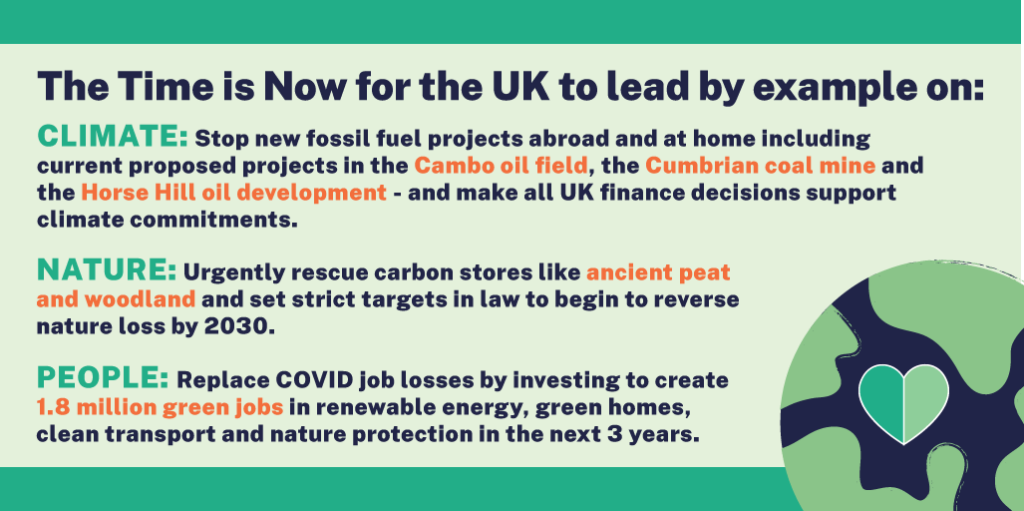 Full list of signatures:
WWF
Woodland Trust
CAFOD
Hope for the Future
National Trust
WI
Green Alliance
Surfers Against Sewage
Oxfam GB
One Home
JUST ONE Tree
Eco Action Families
National Union of Students
Students Organising for Sustainability
Carbon Neutral Cambridge
Feedback Global
Jesuit Missions
Islamic Relief
Women's Environment Network
The British Mountaineering Council
Climate Stewards
Student Christian Movement
Christian Aid
St Nicks
Co-operative Group
WCL Link
Buddy Burst
Ashden
Transition Town Berkhamsted
Carbon Copy
Size of Wales
Young Climate Warriors
Grasslands Plus
Save the Children
Faith for the Climate
Environmental Justice Foundation
Operation Noah
One World Week
Havant Climate Alliance
North East CALL TO ACTION
CARE International
WaterAid
CPRE
UNA Laser
United Reformed Church
Alton Climate Action Network
Climate Friendly Bradford upon Avon
Giki
Fairtrade
UNA-UK
WinACC
MCS Foundation
Bedfordshire Climate Change Forum
Population Matters
Transition Town Kingston
Students for Global Health
Soil Association
Columbans
E3G
Community Energy England
Ceraphi Energy
Marine Conservation Society
The ONE Campaign
Practical Action
Ben & Jerry's
Climate Reality Europe
Environmentally Conscious
BOND
Climate Outreach
SusTrans
Robin Hood Tax
Stamp Out Poverty
South Yorkshire Climate Alliance
Kendal Torchlight
Muslim Charities Forum
Muslim Council of Britain
Greenpeace UK
InterClimate Network
Humanist Climate Action
Church of England Environment Programme
RSPB
Quakers
Scientists for Global Responsibility
Stop Climate Chaos Scotland
Gloucestershire Climate Action Network
International Voluntary Service
Wildfowl & Wetlands Trust
Climate Coalition NI
Methodist Church in Britain
Teach the Future
UKYCC
Centre for Alternative Technology
International Institute for Environment and Development
A Rocha
Climate Sunday
Meat Free Monday
New Weather Institute
Rapid Transition Alliance
Swindon Climate Action Network
Wiltshire Climate Alliance
Triodos
Global Citizen
The Wildlife Trusts
Oxfordshire Climate Alliance
Climate Cymru
[1] 'The public's concern about climate change has reached an all-time high.' 
Source: YouGov, the most important issues facing the country tracker, 19 September 21