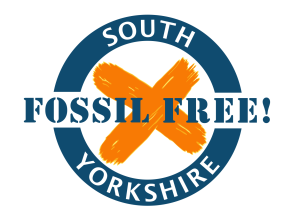 A call to action: ask your local election candidates to pledge to protect local pensions and the planet
On Thursday 5th May, local council elections will be taking place across the UK. Councillors are up for election in all local authorities in Wales and Scotland and more than a hundred authorities across England, including all London boroughs.
Despite more than three-quarters declaring a climate emergency, our local authorities continue to invest nearly £10bn in the very companies fuelling and profiting from the climate crisis. The upcoming elections offer an unmissable opportunity to get local politicians to publicly declare their support for fossil fuel divestment.
South Yorkshire Fossil Free! Are asking people to help get candidates to sign the UK Divest pledge: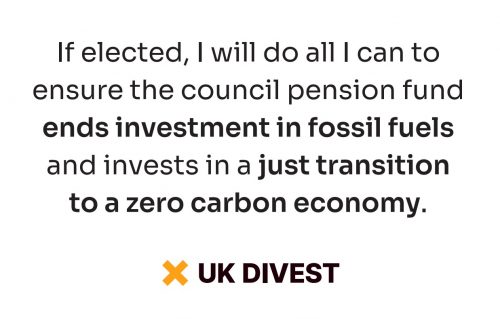 There are three easy steps to our request:
Step 1: Find out who your local candidates are
Enter your postcode into the Who Can I Vote For? website to see the names of candidates running in your ward. Contact details are also provided. If email addresses aren't available from this website a bit of online searching might provide the information. 
Step 2: Email your candidates
Use our template email (see below) to contact your candidates. Amend it as you see fit or write your own. Make sure that any links, for example, to the pledge registration form or the candidate briefing are working. 
Step 3: Ask your friends to do the same 
Please pass on our request to your friends and family and ask them to contact their candidates too.
It's as simple as that!
If you would like to know more about South Yorkshire Fossil Free's campaign please contact us on syfossilfree@gmail.com. And please use this email address to let us know of any response from your candidates.
EMAIL TEMPLATE
Subject: Will you commit to protecting local pensions and the planet?
Dear [insert name of candidate],
I am writing on behalf of South Yorkshire Fossil Free!, a group of residents from across South Yorkshire campaigning for South Yorkshire Pension Authority (SYPA) to stop investing local workers' money in planet-wrecking fossil fuels. SYPA currently has investments of over £230 million in the fossil fuel industry (Divest UK, February 2021).
Investing local pensions in fossil fuels is fuelling climate change and air pollution, contradicting local, national and international commitments to tackle climate change. It is also putting members' pensions in jeopardy as fossil fuel investments now pose a dangerous long-term financial risk to investors. 
Instead, to move toward a zero-carbon future we need to phase out the use of fossil fuels. This means we need to limit the extraction and production of fossil fuels as part of a managed and just transition. Institutions such as local government pension funds can take practical action by, over a sensible time frame, moving their direct and indirect investments out of the fossil fuel industry. Cardiff, Waltham Forest, Southwark, Islington, and Lambeth councils have already committed to divesting their pensions.
We think this election is the perfect time for our council to strengthen their climate leadership by persuading SYPA to divest from fossil fuels and invest the money in the local economy instead.
I am writing to ask that you agree to publicly back the following pledge:
"If elected, I will do all I can to ensure the council pension fund ends investment in fossil fuels and invests in a just transition to a zero-carbon economy."
If you agree, please fill in this short form and you will be added to the public pledge list at divest.org.uk/elections-2022. You can also find social media assets and resources at this link to help promote your pledge and encourage other candidates to do the same.
If you have any further questions on this, please do not hesitate to contact me or the UK Divest team at ukdivest@gmail.com. I've also attached a short guide to divestment which provides some more information on the issue. UK Divest is also hosting a webinar for sitting councillors and prospective candidates on Tuesday 26 April which will explore the moral and financial benefits of divesting from gas, oil and coal. Please register here and share the event with other candidates who are keen to find out more.
Should you be elected, I would welcome continuing this dialogue about how we can work together to make our council a climate leader.
Yours sincerely
[Your name]