Launch of the Sheffield Climate Vigil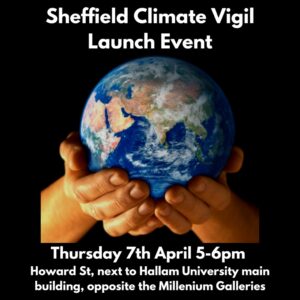 A silent Vigil for the climate will be held in Sheffield city centre on Thursday 7th April.
Inspired by the Leicester climate vigil, the organisers of the Sheffield Vigil will launch their event at 5pm on the 7th April. It will take place on Howard Street, opposite the Millenium Gallery. Everyone is welcome to attend. 
The organisers will have leaflets to explain the Vigil and actions that individuals can take to help with the climate crisis.
This launch event will be the first of what it is hoped will be a regular Vigil for the climate.