South Yorkshire Fossil Free! (SYFF!) are looking for people to take part in an action.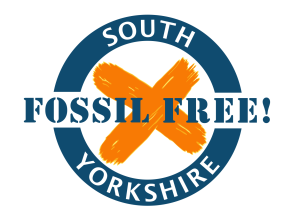 South Yorkshire Fossil Free! (SYFF!) are  looking for people who'd like to take part in an action on Thursday 30 September. 
The 
Borders to Coast Pension Pool
 is organising an conference for its 11 Local Government Pensions Scheme partner funds, of which South Yorkshire Pension Fund is one. Borders to Coast have about £60 billion of assets under investment for the more than 1 million pension scheme members. The divestment campaign groups seeking to influence the partner pension funds will be there too. 
It is planned to be outside the venue as delegates arrive for the first session, having some impactful banners and leaflets aimed at councillors. The conference is at the Met Hotel, King Street, Leeds, LS1 2HQ (within easy walking distance of Leeds station). It starts at midday, so we propose arriving outside shortly after 10:30. We will meet in Wetherspoons in Leeds station between 10.00-10.30.
Please join us if you can. Email Richard ( rhtassell08@live.co.uk ) if you can join us. There are no plans for getting arrested.