Make 'Swift Bricks' mandatory for all new build and extensions in Sheffield
The Sheffield Swift Network have launched a petition calling on Sheffield City Council to make 'Swift Bricks' mandatory for all new build and extensions in Sheffield.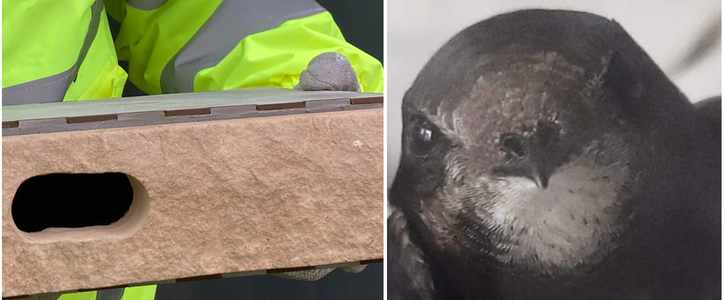 UPDATE – The petition was handed over to Sheffield City Council on 24th November 2022. It was positively received by councillors, who suggested that the Local Plan would include swift bricks in the examples of what can be included to increase biodiversity.
The Sheffield Local Plan will be will be open for Public Consultation from 9 Jan to 20 Feb 2023. 
The Sheffield Swift Network (SSN) want simple, low-cost, unobtrusive swift nesting opportunities in all new buildings and extensions of two storeys and above. We ask Sheffield Planning Department for a specific policy (and associated guidance) in the new Sheffield Plan and Sheffield Residential Design Guide. This will guide developers and consultant ecologists. We are also aware that South Yorkshire Bat Group are pushing for the same in relation to bats.
Where there is risk of nesting birds we would like mandatory surveys of developments before works begin, for swift groups to be invited to comment on planning applications and the enforcement of swift conservation measures.
Find out more about the Sheffield Swift Network here.
The Sheffield Swift Network (SSN) represents grassroots swift groups in S6, S7, S8, S10, S11, S17 and S20. We take practical action e.g. swift box fitting days, work with schools, surveys, rehab, events and giving advice.
Our network belongs to the UK Swift Local Network which brings together over 110 groups. Community passion for swifts is soaring!
Endorsements for this petition include: Diverse Roofing, Dr. Ian Rotherham, Sheffield Bird Study Group, Sheffield Green Parents, Sheffield and Rotherham Wildlife Trust, Sky-House Co, South Yorkshire Bat Group, South Yorkshire Biodiversity Research Group.
Why is this important?
We are having a swift emergency in Sheffield. Illegal work (Wildlife and Countryside Act), has brought SSN surveyors out to defend active swift nests from building developments in S6, S10, S13 and S17. These are not isolated incidents. The Common Swift isn't common any more. In the last 25 years, UK swift plummeted by over 60%. Swifts are Red Listed Birds of Conservation Concern and classified as "Endangered".
Traditional building materials and methods left gaps for laying eggs and raising chicks, high up within the eaves. Modern plastic soffits and well-sealed, draught-proof buildings lack nooks and crannies. Up to now, few town planners, architects, builders, roofers and other professionals have cared about swifts (and other valuable wildlife e.g. bats). We have to change this before it is too late.
Swifts fly from Africa to the same mate and nesting site, staying in Sheffield from May to August. If they return to find their nest site has been blocked off, destroyed or encased in scaffolding/netting, it spells disaster. Being non-perching birds, they will keep trying to swoop into their former nesting hole. They will persist for up to two weeks, sometimes ending in injury and death.
We recently rushed to an emergency swift survey in Handsworth. Swifts zipped silently in and out of their eaves' nests feeding their young, the residents unaware of them, likewise the soon-arriving roofers. Thanks to our intervention their chicks are safe and will have a chance. We got very positive reactions from residents and lots of interest in their amazing migratory life cycle. The 'feel-good' factor is probably helped by the fact that swifts are delightful neighbours, eating insects and flying around with amazing grace and energy. Swifts are clean, un-messy birds making secret, minimal nests that disappear over winter.
Cheaply and easily, modern buildings and renovated old buildings can provide suitable cavities, without compromising the building's interior. We ask Sheffield City Council to promote Swift Conservation's recommended good practice:
1. Leave existing nest places undisturbed
2. If re-roofing, after the fitting of new soffits and gutters, make new nest access holes to match the old ones exactly. See "Creating Swift Nest Places in Old & New Soffits", https://www.swift-conservation.org
3. New build – internal nest spaces "Swift bricks" are the best. A wide variety of commercially produced hollow bricks or blocks have a small entrance to allow swifts to build a nest inside. Integrated nesting bricks have advantages over external boxes, e.g. "Integrated nesting bricks are preferred to external boxes for reasons of longevity, reduced maintenance, better temperature regulation, and aesthetic integration with the building design." (Westminster Environmental Supplementary Planning Document (ESPD)) @£15-30/unit, i.e. around 0.0001% of the cost of an average home.
The number would depend on the size of the project, following the example of progressive councils. Government planning guidance highlights the wildlife benefits from 'Swift Bricks' (NPPG Natural Environment 2019 paragraph 023).
3. If you cannot do "3" above, fit external nest boxes
Many councils such as Brighton and Hove, London, City of Westminster and Cambridgeshire are committed to swift conservation through planning. But, neither the current Sheffield Habitat Action Plans nor Local Plan currently cover building-based species. This is an opportunity to strengthen the council policy in this area. We must protect and aid the recovery of Sheffield's swift population through forthcoming Local Nature Recovery Strategies. Biodiversity Net Gain will soon be mandatory in England for developments above a certain size to achieve planning permission, but again the methodology overlooks building-based species.
Live, work or study in Sheffield? Will you join us in being a voice for these birds?