Demonstration against Rose Hill development on 19 August
The Rose Hill Residents' Association (RHRA) in Doncaster would welcome your support in their continued opposition to the proposed housing development at Rose Hill field, Bessacarr, Doncaster:
We are planning a peaceful show of opposition on Saturday 19th August:
The action will begin at 10am with free tea, coffee and soft drinks to be served outside 59 Rose Hill Rise, DN4 5LE which is situated next to the field.
Around 10:30am, the Act Now Theatre Group, who demonstrated outside the Council House at the planning meeting last March, will again be entertaining us.
This will be followed by a walk along the bridle paths across the field. We will then walk to the corner of The Avenue and Bawtry Road to arrive around 11am.
We want passers-by to take note of who we are and why we are demonstrating, and raise awareness of the plans and the loss of a precious biodiverse green space, and the massive impact the construction traffic and additional vehicles will cause on Bawtry Road and the surrounding area.
We therefore ask for your support in what could possibly be the last chance to show opposition to these plans. If you could spare just one hour of your time to help us try to save this beautiful green space for nature and for future generations, it would be much appreciated. Thank you.
Please contact rhra@btinternet.com for further details.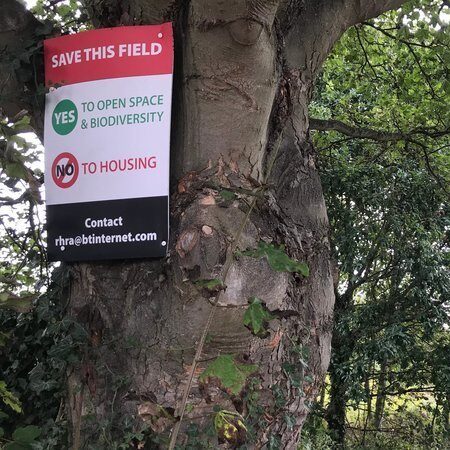 Background
The planning application to build on Rose Hill was put before the Planning Committee at the end of March 2023 and was refused, partly on ecological grounds. However Miller Homes has now resubmitted its planning application and residents are having to fight once more to save this precious green space.
This site is a former agricultural field which has re-wilded over the past 25+ years and now comprises a valuable mosaic of habitats including grassland, wildflowers, species-rich scrubland, trees and areas of woodland. The site supports priority and protected species, including red and amber-listed endangered birds. Rose Hill is also part of a wider network of connected biodiverse green spaces in Doncaster. Rose Hill is also a green open space widely used by the local community for recreation and to connect with nature.
Rose Hill is presently owned by Doncaster Council but they are selling the land to developer Miller Homes for housing. Doncaster Council declared a climate and biodiversity emergency in 2019 and has made a number of public statements about the urgent need to help nature recover, stop biodiversity loss and protect trees and woodlands, and the importance of habitats like those on Rose Hill in doing so. In selling Rose Hill and allowing a developer to build on Rose Hill, Doncaster Council is therefore going against its own policies and statements regarding the importance of tackling climate change and biodiversity loss.
Yorkshire Wildlife Trust have objected to the proposals and expressed "serious concerns about the development of this site, primarily in relation to its location within a Biodiversity Opportunity Area and the predicted level of biodiversity loss" and the South Yorkshire Climate Alliance have also objected saying that "an existing and biodiverse young woodland habitat with important connectivity to Doncaster's Green Infrastructure corridors would be lost" if the development goes ahead, and that "this planning decision will be hugely significant for the continuing credibility of Doncaster Council's declaration of a climate and biodiversity emergency in 2019".