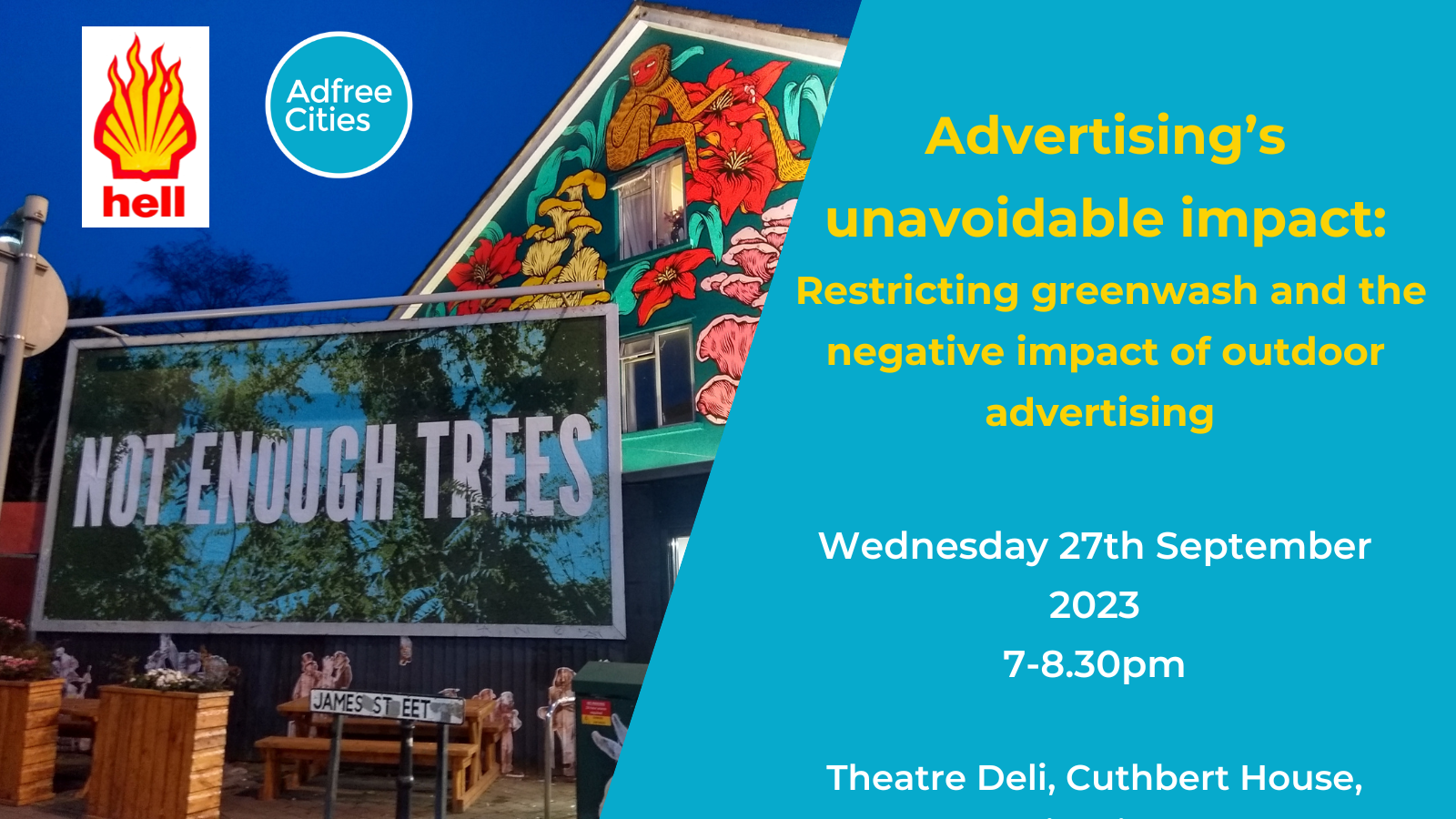 Advertising's Unavoidable Impact: Restricting greenwash and the negative impact of outdoor advertising in Sheffield
Adfree Cities are coming to Sheffield on 27th September 2023. We're hosting an event in Theatre Deli on how councils can control high carbon advertising and promote positive, creative alternatives for more vibrant public spaces.
We're asking…
How does advertising pollute our streets and our planet?
How can our councils control high-carbon advertising?
What would a fossil free Sheffield look like?
Join us on Wednesday 27th September 2023 at Theatre Deli, Arley Street S2 4QP, 7:00pm – 8:30pm for this free event.
Adfree Cities will be previewing preliminary findings from our upcoming research on the links between social deprivation and outdoor advertising in Sheffield. We will also be joined by Darren Cullen (Spelling Mistakes Cost Lives), the artist behind the Hell Bus who dissects greenwashing techniques through satire.
Attendance is free! Please register your place.
Also, please share with friends and on social media!
The event is open to anyone who lives in Sheffield – Sheffield City Council holds the advertising contracts and therefore has the power to replace them with a positive alternative!
This event forms part of a tour taking the 'Hell Bus', a mobile exhibition with artwork dissecting greenwashing tactics, to university towns and cities across the UK, in collaboration with Switch It Green. Darren Cullen's Hell Bus will be joining us as a public climate art exhibition to raise awareness around high carbon advertising and demonstrate positive, democratic, and creative use of city space. Come and see the Hell Bus at Theatre Deli between 26th – 29th September 2023.