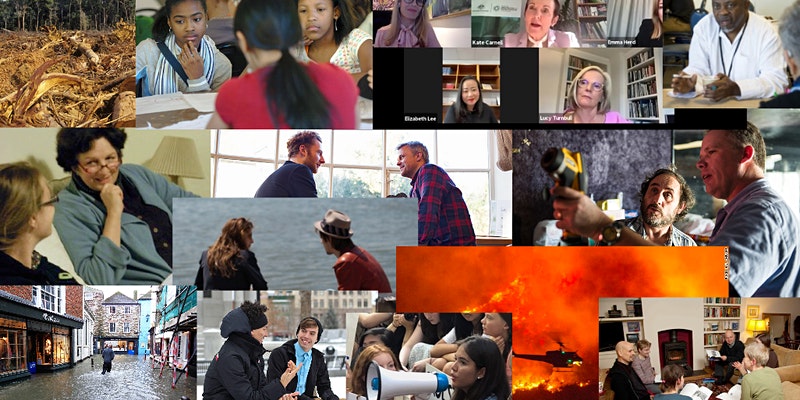 An introduction to climate conversations skills
This free introductory workshop will give you tips and encouragement for having successful conversations about the climate crisis with family, friends, colleagues and neighbours.
'Climate conversations' can be short, impromptu chats that take place over the dinner table, at the school gates, in the staff canteen, while you're waiting for a bus, or wherever. They can also be planned longer conversations that you fix in advance. Whether long or short, climate conversations are important to have because the changes necessary to bring about a sustainable society need widespread support before the politicians will act decisively. And many people rarely talk about the problem; even if they accept that global heating is happening (as most people now do), they don't know what they can do about it.
After an introduction, the bulk of this workshop will involve discussing different topics in small groups. Resources provided will include a key facts sheet and a 'cue card' to help you to structure longer climate conversations.
The workshop will in part be based on The Talking Climate Handbook produced by Climate Outreach. You may want to scan through this beforehand but it's not necessary to do so. It is available as a free download from: https://climateoutreach.org/reports/how-to-have-a-climate-change-conversation-talking-climate/
Workshop facilitator
Nick Nuttgens is one of the co-convenors of the Climate Communications Hub. Now retired, he is a former teacher and trainer who has been leading workshops and short courses on climate change for several years. Feedback from a course he led for students at the University of Sheffield in 2020 included:
• "I can't recommend [the course] enough: educational, informative, thought provoking, challenging…It has made me realise the importance of these conversations as way to create a 'cultural shift' in society…"
• "It significantly changed the way I approach conversations of all kinds! (but specifically ones concerning the climate crisis)"
Nick has also written a series of blog posts to help community-based climate activists develop their communications strategies. These can be found at: https://constructivepolicy.blog/