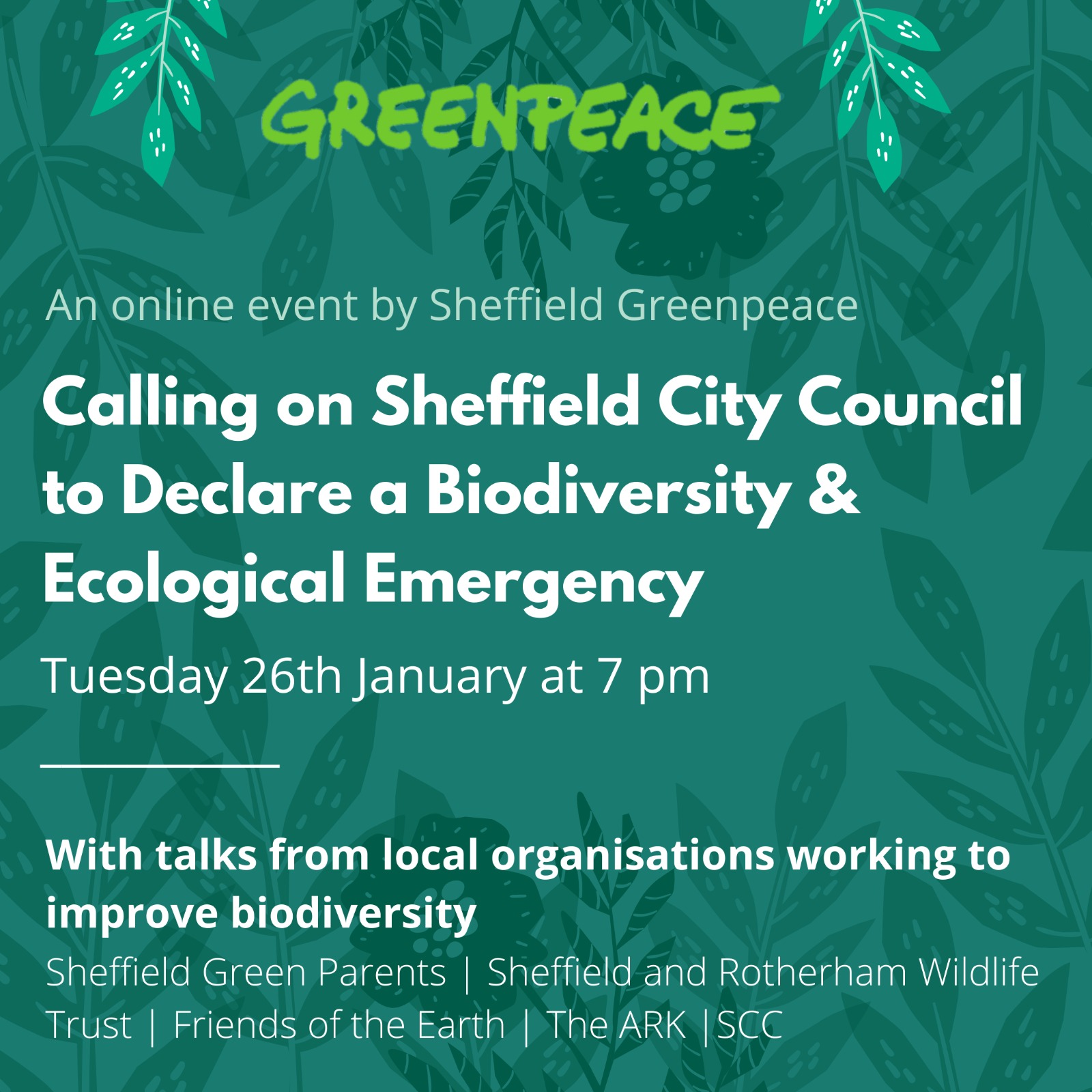 Biodiversity & Ecological Emergency Speaker Event
Biodiversity & Ecological Emergency Speaker Event Tuesday 26th @ 7pm
The speakers are:
Rachael Smith – Member of the Sheffield Green Parents
Lindy Stone -Coordinator – Sheffield Friends of the Earth
Liz Ballard, CEO, Sheffield & Rotherham Wildlife Trust
John Grant – Director of Adaptation & Resilience Kommittee "The ARK"
Cllr Mark Jones (SCC Cabinet
Member for the Environment ,Street Scenes and Climate Change).
The link is on greenwire :
https://greenwire.greenpeace.org.uk/s/event/a2X4H0000007qoCUAQ/biodiversity-ecological-emergency-speaker-event
This is to promote two local petitions supported by Sheffield Greenpeace and Sheffield & Rotherham Wildlife Trust
Sheffield Green Parents & Sheffield Friends Of The Earth in collaboration with Sheffield & Rotherham Wildlife Trust and Sheffield Greenpeace are calling on Sheffield City Council to declare a Biodiversity & Ecological emergency, and set targets to:
-Act now for our Green City ! Prioritising the health of our community and nature's recovery when tackling climate change .
-Put the restoration and protection of the natural eco systems and wildlife on which we all depend a first.
-Connect people to wildlife and nature which are know to have widespread mental and physical health benefits.
-Stop the use of the pesticide glyphosate on parks, playgrounds and pavements now (and not in 2022 as planned).
Greenparents link –
https://www.change.org/BiodiversityEmergencySheffield
Sheffield Friends of The Earth
https://actionnetwork.org/petitions/call-for-sheffield-city-council-to-declare-an-ecological-emergency?source=direct_link&
Sheffield & Rotherham Wildlife trust
FREE downloadable Action for Insects and help tackle this crisis.
Link
https://www.wildlifetrusts.org/take-action-insects