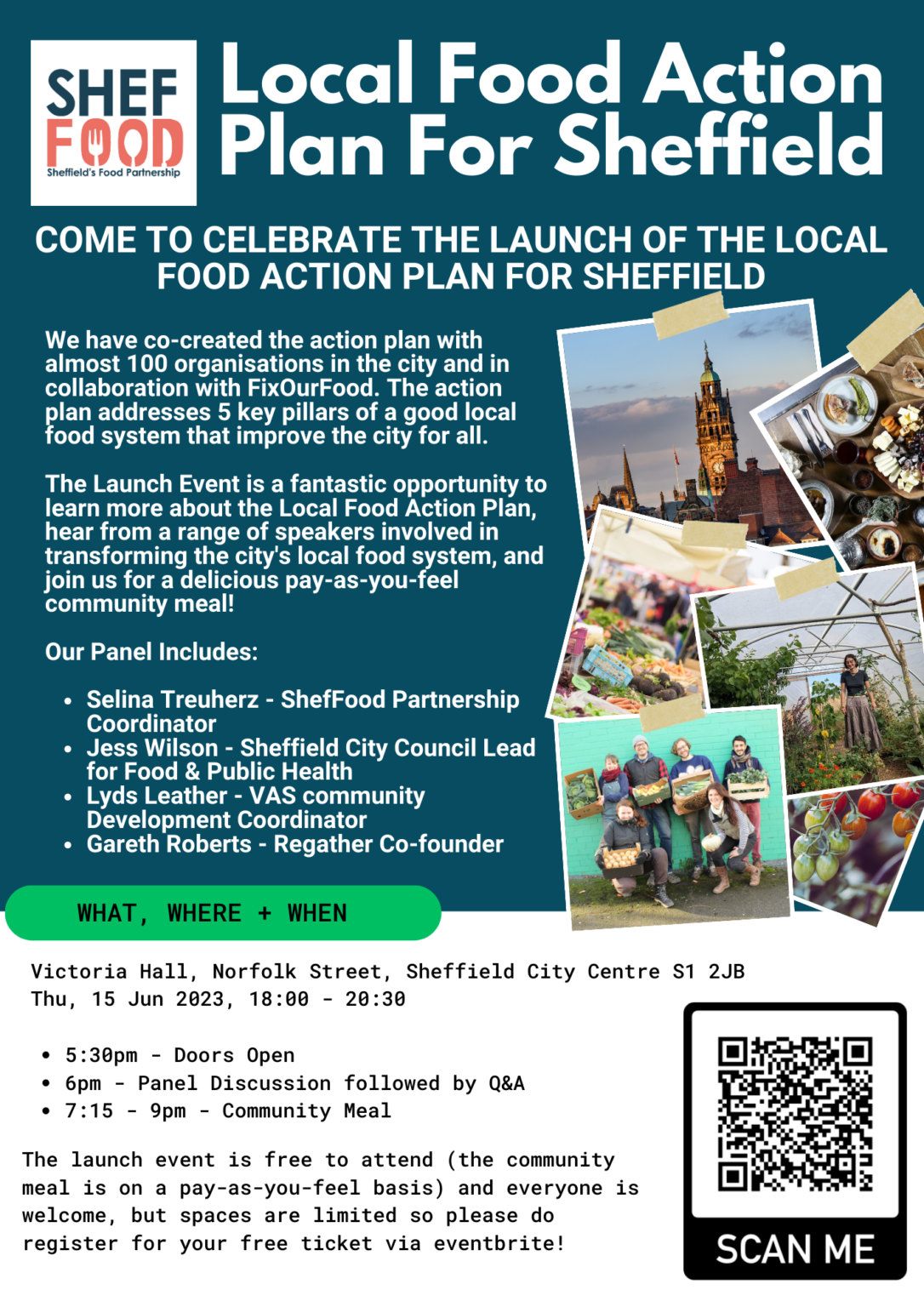 Sheffield Local Food Action Plan Launch Event
Join ShefFood at this special event celebrating the launch of the Local Food Action Plan for Sheffield 2023-2030!
Over the past 3 months, ShefFood has been building on the vision formed in Sheffield City Council's Food Strategy 'Fairer, Healthier, Greener', to create a multi-stakeholder food action plan for Sheffield.
They have co-created the action plan with almost 100 organisations in the city and in collaboration with FixOurFood through a series of 12 workshops to write and co-develop the action plan, which addresses 5 key pillars of a good local food system: food provision, food production, the food economy, health and wellbeing, and the good food movement.
The action plan sets out specific commitments to action from diverse organisations across the city; over the next 7 years, these actions will take Sheffield's food system on a journey to becoming fairer and more sustainable for people and planet.
The Launch Event is a fantastic opportunity to find out more about the Local Food Action Plan, to hear from a range of speakers involved in transforming the city's local food system, and to join ShefFood for a delicious pay-as-you-feel community meal!
Event Schedule
5:30pm – Doors Open
6pm – Panel Discussion
6:30pm – Q&A
7:15 – 9pm – Community Meal
The launch event is free to attend (the community meal is on a pay-as-you-feel basis) and everyone is welcome, but spaces are limited so please do register for your free ticket via eventbrite!
If you have any queries about the event, please get in touch at info@sheffood.org.uk
*Please note the venue is fully accesible.
About ShefFood
ShefFood is a cross-sector partnership of organisations across the city formed of local public agencies, businesses, individuals, academic and community organisations committed to working together to create a more sustainable food system for Sheffield. Find out more
About FixOurFood
This local food action plan was developed in collaboration with the FixOurFood research programme, led by University of York and funded by the Transforming UK Food Systems Strategic Priorities Fund. FixOurFood aims to understand and build pathways to a more regenerative food system in the Yorkshire and Humber region. For more information please visit: fixourfood.org.