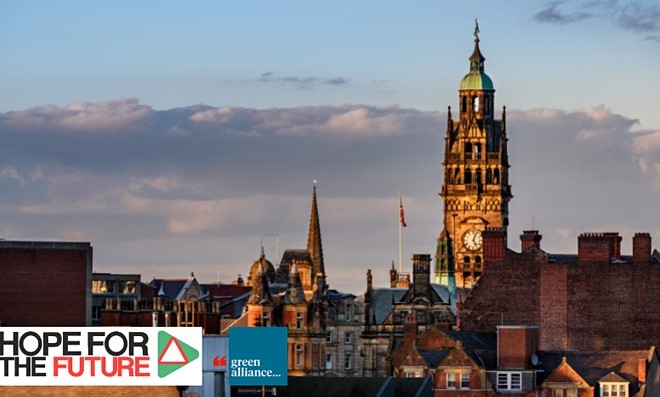 South Yorkshire Metro Mayor Climate Hustings
An opportunity to meet the next Metro Mayor for South Yorkshire and ask how they plan to keep climate action on the regional agenda.
Join us on Thursday 21st April from 6.00pm-7.30pm for a climate hustings event hosted by Hope for the Future and supported by Green Alliance
#MyVoiceCountsSY
This event is an opportunity to meet the candidates running for Metro Mayor for South Yorkshire and to ask how they will prioritise the issue of climate change and the environment. There will be a focus on those issues of significance for our region such as sustainable transport, green jobs, energy and climate impacts such as flooding.
Candidates from all the main parliamentary parties have been invited and the following have confirmed their attendance (alphabetically):
Bex Whyman, Green Party
Joe Otten, Liberal Democrats
Oliver Coppard, Labour Party
Simon Biltcliffe, Yorkshire Party
The event will be chaired by Sarah Jordan, Director of Hope for the Future with an introduction from Green Alliance.
This event will take place at Victoria Hall but also live streamed and available to view for anyone across the South Yorkshire region (and beyond) to attend remotely. You can select your preferred option at check out. We will be taking audience questions as part of the event submitted both in-person and online.
Hope for the Future is a national climate communications organisation based in Sheffield which works to equip communities, groups and individuals across the country to communicate the urgency of climate change with their local elected representatives.
Green Alliance is an independent think tank and charity focused on ambitious leadership for the environment.
This is an open event, but reserving tickets is essential so we can ensure event safety.