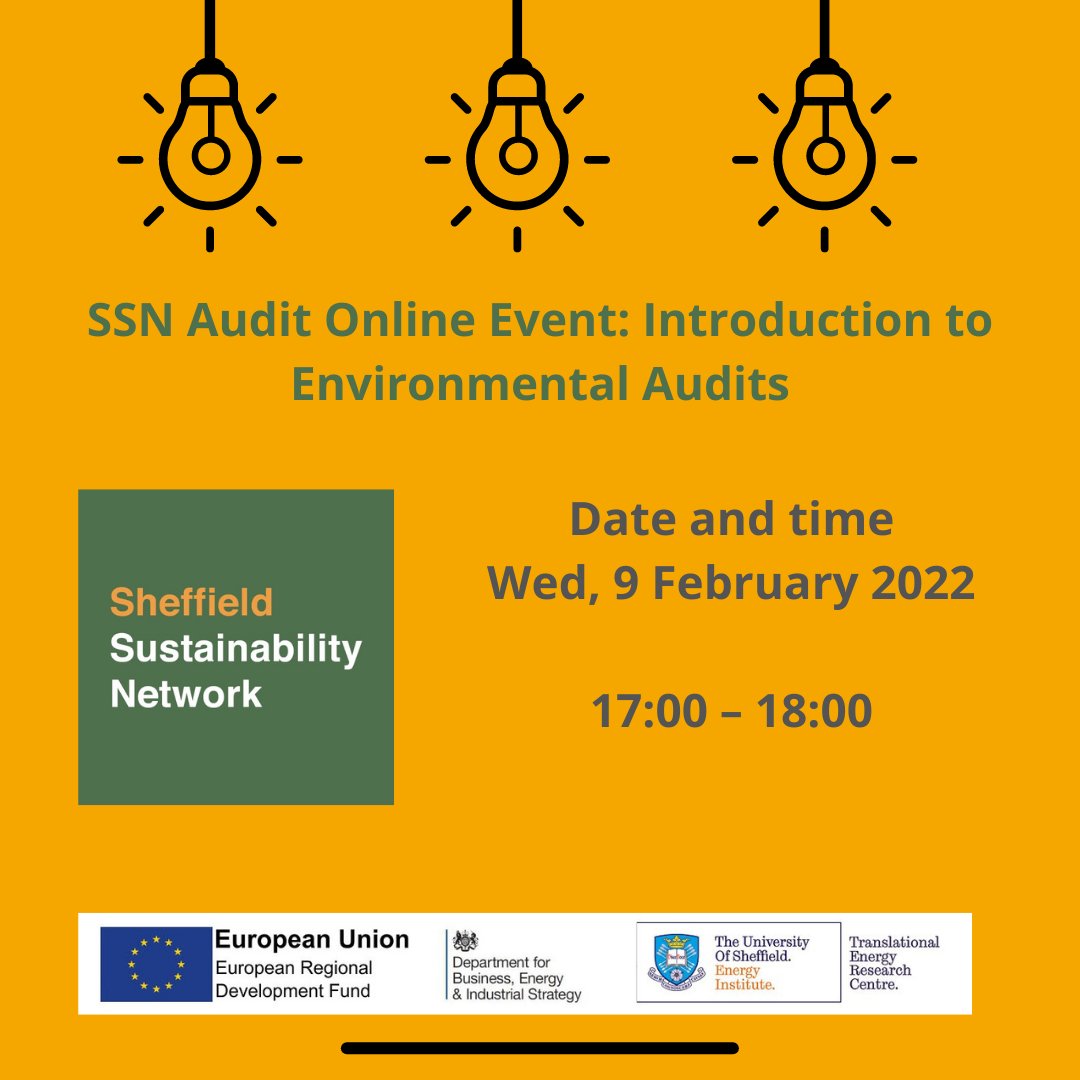 SSN Audit Online Event: Introduction to Environmental Audits
About SSN
Sheffield Sustainability Network (SSN) exists to provide all organisations in Sheffield with the support they need to become sustainable through member events, knowledge and skill sharing. Sheffield Sustainability Network was founded by three local business owners who had begun meeting regularly to exchange ideas on more sustainable ways of working. Their need for more knowledge and support inspired the creation of SSN, a platform in which local businesses and non-profit organisations can support each other in their goal of becoming more sustainable.
Event Information
Looking to start, or make progress, on the path of making your organisation more sustainable? One of the best ways to progress sustainability in your organisation is to conduct an audit to measure where you are right now. This event will help businesses understand the types of audit available to them, identify which might be the best one to go with, and how to access it.
This event is aimed at anyone considering an environmental audit, and is particularly aimed at everyone who wants to reduce their organisation's impact on the environment but is unsure about how to start. It features speakers from Business Sheffield, Translational Energy Research Centre and SSN itself, who will each talk about the audits offered by their organisations, and how to access them.
By the end of the event you should have a good idea of which audit is best for you, and how to access it, and will be able to start on the path of making your organisation more sustainable and reducing your carbon footprint.
What is an environmental audit?
An environmental audit creates a clear picture of your organisation's current situation regarding energy use, pollution, waste and recycling, transport etc. This allows you to assess your compliance to regulations and to develop policies and procedures for reducing your environmental impact.
About Translational Energy Research Centre
The Translational Energy Research Centre is a state-of-the-art research and innovation facility, part-funded by the European Regional Development Fund. As well as research and testing, we work with the Sheffield City Region to help local businesses in the transition to a low carbon economy by offering start-ups and small to medium sized enterprises (SMEs) free support to help them become more sustainable and reduce their energy costs.
If you're at the start of the journey, our team can advise on elements such as energy efficient lighting, heating methods and manufacturing and operational processes. If you've already started the journey towards sustainability, we can help you take it to the next level. Our team can assess your initiatives and advise on implementing further solutions that will have a significant impact on your carbon emissions.